The Art
While I don't follow any one artist, I admire the works of Jackson Pollock. My style is unstructured, mixed with a splash of the urban, of graffiti and street art.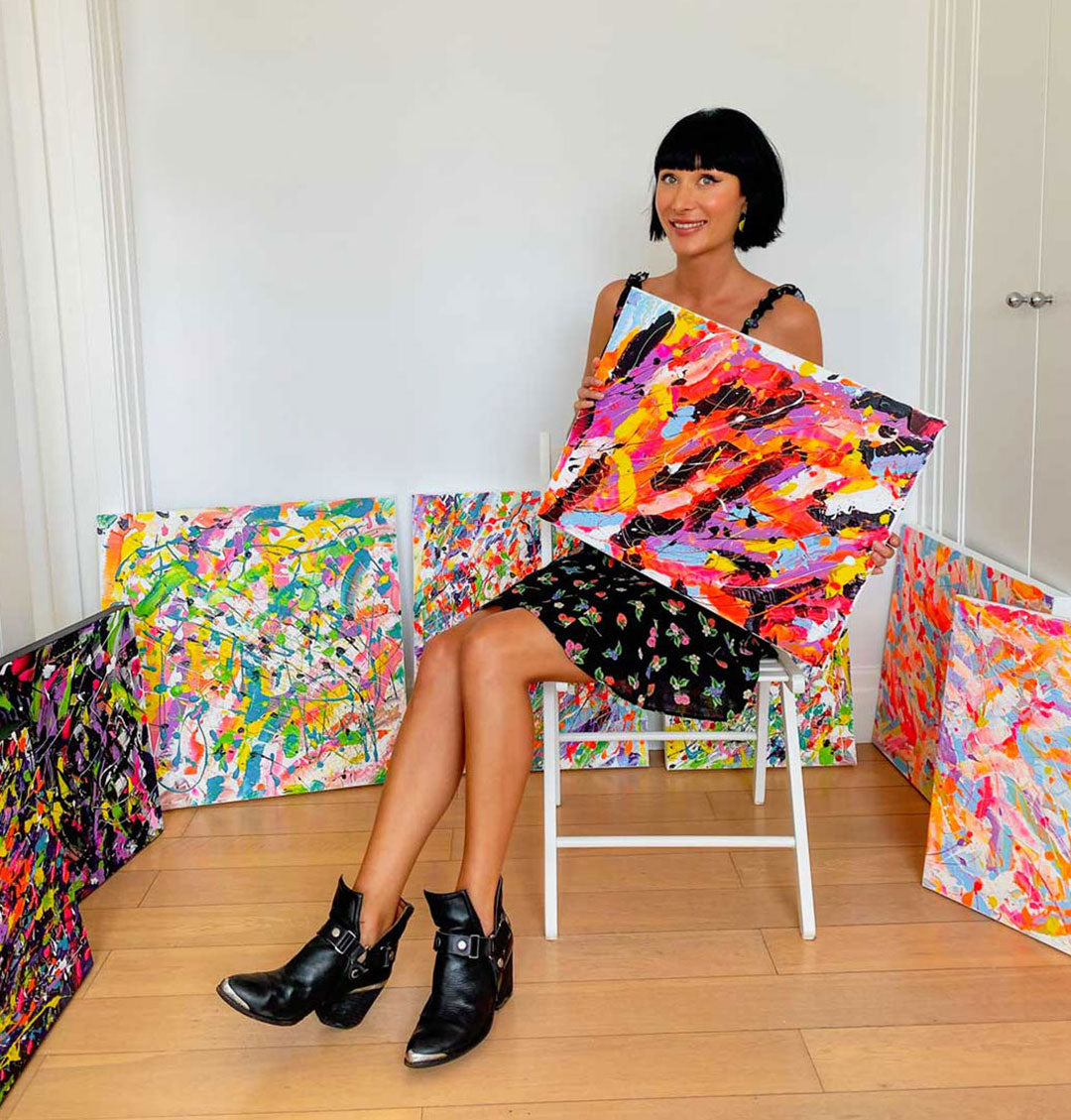 I'm Bridget Bradley, abstract expressionism artist who is passionate about and specializes in creating textured, abstract expressionism art.
During the pandemic, I felt the urge to paint daily and I painted prolifically. Much like an alchemist, I merge my feelings and energy into the movement of my gestural strokes, using action painting with vibrant colours, layers and spatters to share my unique voice, my story within the artwork. My approach is unafraid and comes from my raw consciousness.
Using unique colour combinations and blending techniques, I make art that is layered with impasto techniques and under paintings. Often heavily textured, my art is unique and made to outlast trends. I have been a featured artist and have received art awards for excellence in art.
Always the observer, the listener, I invite you into my unique world, to be still in the moment, to be uplifted and allow your own emotional response to arise. Through the colour and textural energy of my paintings, I evoke emotion, mindfulness and healing.
more about the art
My paintings are like a gift, a part of my authentic self that I share with others, with you. The intention is to express emotion from that deep consciousness, to heal by sharing feelings and inner worlds that are often hard to verbalise. I want my art to evoke positive emotions in you, to inspire you, to heal you, to provoke new perspectives, profound thoughts and genuine conversation in your circles. Each day when I paint, the emotional energy within is different and this drives me to create in a certain way, sharing new feelings and concepts.
My art is often bright, bold and I love to incorporate neons. I hope my paintings will uplift you and make your home, apartment, hotel, restaurant or office a welcoming, luxurious space to inhabit. It's a way to connect with you, your family, friends, guests, colleagues and facilitate more connections between you through the medium of visual art; contemporary art. I would like my abstract paintings to stir your emotions. I hope it encourages you to take time to feel in the present moment in a way that invigorates you and makes a difference to your day every time you look at them.
If you are collecting art, and looking for one of a kind art, I hope you connect with me and find my work intriguing and unique. I also offer select pieces of my art as fine art prints, museum grade quality, printed by a registered fine art printer. This is another way you might enjoy my art.
I have not yet released many of my original paintings so do join my VIP mailing list to receive my newsletter and be first to see my new releases. Read more about me.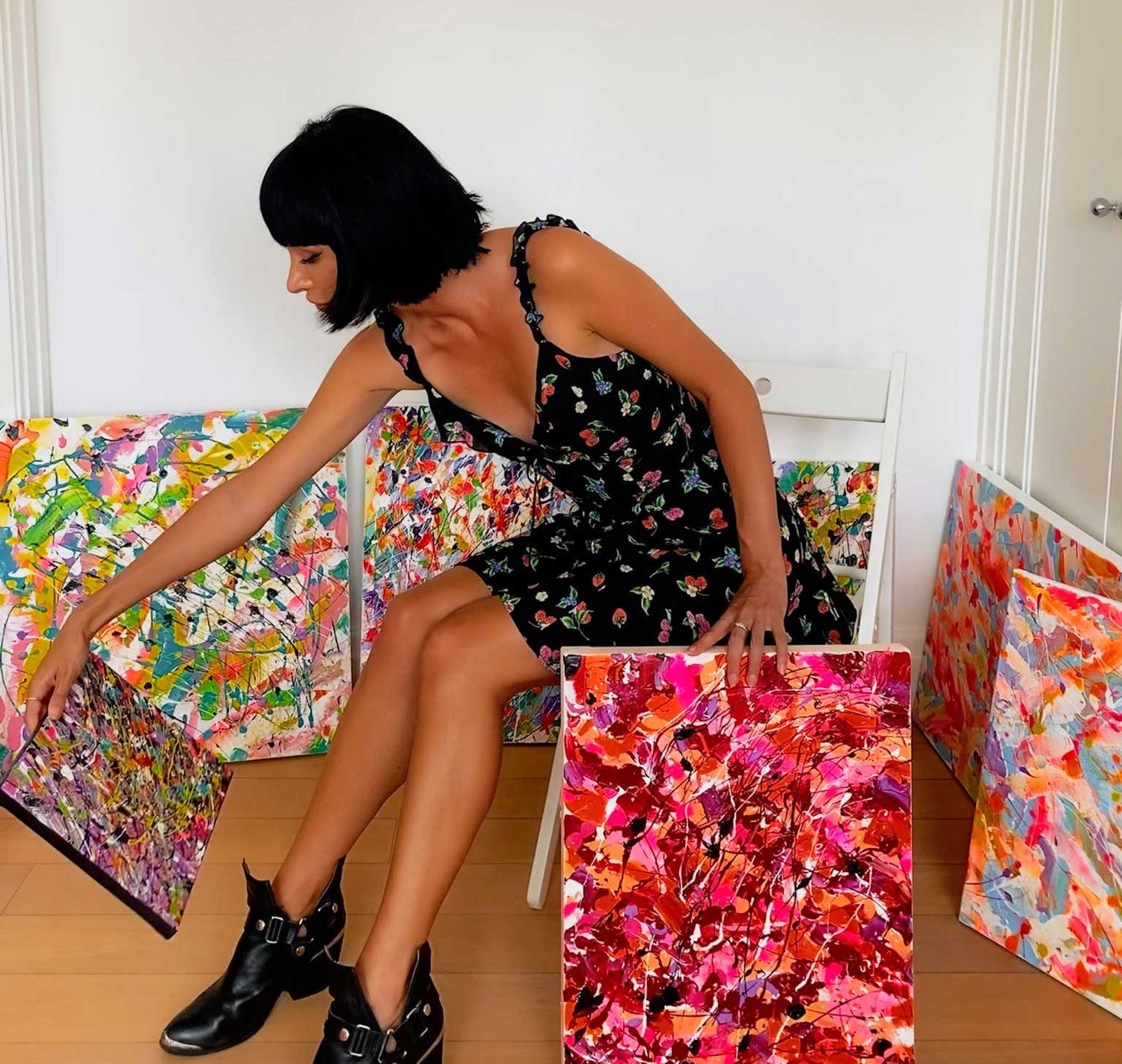 abstract art transforming people & spaces
I paint abstract expressionist artworks for hip people who enjoy style, who are fascinated by how the mind works, who aspire to a healthy lifestyle, mindfulness and yoga. I offer my art as aesthetics for creating beautiful, lifestyle inspiring spaces, to help people to feel, to ignite their senses and to find healing through the energy of my art and colours.
You return to your space that is uniquely yours and envelope yourself in an ambience of positivity, beauty, colour and style. It's that special place you love to relax in, to take time to slow down, to get in touch with your feelings, to share with family and friends.
This is why I make art, for people like you.
art care and documentation
I want you to be 100% happy with your original artwork. My artwork is precious, it is treated with great care. I have partnered with a fine art freight specialist who pack the original paintings meticulously. For Fine art prints, my fine art printer produces, handles and packs the prints for shipping. All I ask is that when you open the art, you treat it with as much care.
Please read the Refund and Return Policy.
Materials
I use high quality materials with all of my original artwork, including professional paper, canvases and paints. For fine art prints, I partner with a registered fine art printer, Left Bank Art Group, who uses museum grade papers and inks for my prints.
Artwork Documentation
All of my artwork is documented, photographed and archived professionally so that you know I am the original creator of the work and that I own the full copyright. You will receive a Certificate of Authenticity with your purchase.
Quality Inspection, Packaging & Shipping
Before your artwork purchase is sent to you, it is carefully checked for any damage, photographed, packed, photographed again and insured.